Over the years, media coverage of sexual satisfaction has become increasingly popular, and this can only be beneficial – particularly if it encourages individuals to contemplate their true desires in intimate relationships and how to achieve them. One of the significant trends that has emerged is the growing interest in BDSM, especially since the rise of the Fifty Shades phenomenon. However, along with the increased availability of kinky equipment, there is a risk of diving into the deep end without fully understanding your own boundaries. BDSM for Novices With this in mind – and with the assistance of experienced individuals in the scene – I have compiled this beginner's guide. It provides fundamental information, some of which may seem obvious, but all of it is crucial. Additionally, I have included recommendations for items that could be useful in your explorations. Feel free to comment below if you have any questions, and I will do my utmost to address them.
Understand Yourself Reflect deeply on your desires and limits, both soft and hard. Soft limits refer to activities you don't typically engage in but might consider with careful persuasion, while hard limits encompass things you will never do and do not wish to be asked to do. Do not let others persuade you to change your mind about these boundaries. If you decide to alter your limits, take your time and make the decision independently, without external influences. In BDSM, the focus is on pushing boundaries, both physically and emotionally. Therefore, it is essential to consider the potential effects of different activities well in advance.Know Your Partner By this, I mean truly understanding your partner and having complete confidence in their trustworthiness.
If you are submissive, do not entrust yourself to an inexperienced dominant partner. Your safety could be compromised. Only engage in BDSM activities with a partner who clearly possesses the necessary expertise and will wholeheartedly respect your boundaries and well-being. They should also comprehend the importance of aftercare, which involves providing reassurance and comfort to help you manage what is commonly referred to as "sub drop."
Safety is paramount. And that means at all times, even if danger gives you a thrill. I'm talking practical safety here – any situation in which a person is restricted in any way, whether that be with rope or tape or cuffs, needs an emergency exit. Either keep scissors, rope-cutting equipment and/or bolt cutters in an accessible place, or only use kit that can be broken out of in an emergency. Regardless of what certain bestselling books might tell you, cable ties are NEVER acceptable as a form of restraint. Some experienced kinksters might use them, but there are so many risks involved – nerve damage, for one thing – that it's just not worth the risk. Things like this are why it's so important to read and research and learn. The 'safety first' rule applies even when playing alone.This will render you unable to free yourself.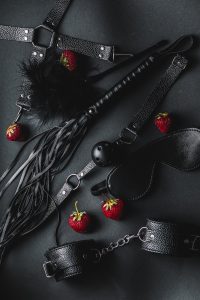 Communication is key Talk, talk and talk some more. Establish what each partner's expectations are. Safe words are well named – they're there to keep you safe. If you or your partner won't be able to speak because you're using a gag, then you need to prearrange a hand gesture or similar. One person told me she holds a bell off a cat collar so it can be dropped as a warning if her hands are out of sight, which is rather ingenious. You might occasionally hear talk of subs 'topping from the bottom' – this literally means that the supposedly submissive partner is actually leading the activity, hence 'topping'. Many people would argue that this is incorrect terminology – a sub communicating their feelings and needs, as they should absolutely feel able to do, is not 'topping', they are communicating.
Consent is sexy – and utterly essential. Be absolutely sure that both partners know exactly what is and what isn't allowed before playtime starts.Stay in control of your own reactions. That means no mind-altering substances, including alcohol. Okay, so plenty of us like a G&T to get us in the mood, but if you're outright drunk you are not in control of your reactions. And being sick whilst tied up could be very dangerous indeed.
Don't take yourself too seriously. Whether you're dominant or submissive, you're supposed to be enjoying yourself – and so, obviously, is your partner. Role-play is great, but don't get so caught up in it that you lose your sense of humour. Sex can be accidentally silly even when you're taking it seriously – it helps ease the tension if you can both laugh when something doesn't quite work out. And don't forget that you can use your imagination as well as implements to think up somewhat unusual methods of 'punishing' your partner.